How to import my 3D model into Shadow Analysis 2?
To import 3D file to Shadow Analysis 2 select File -> Load from application menu or click Load icon from the toolbar.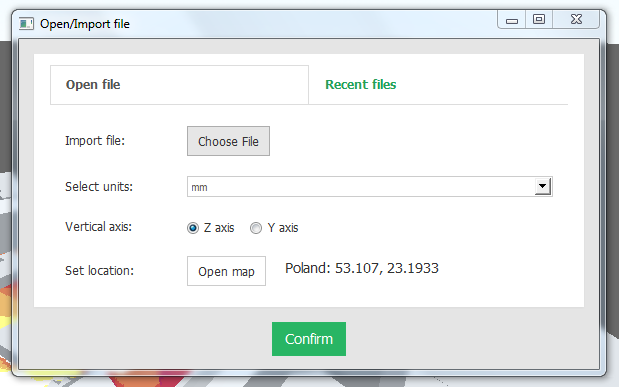 In the Open/Import window, you can choose to open a new file or load one of the recently saved scenes.
If you choose to open a new file click Choose File button to open filebrowser. Shadow Analysis 2 supports a number of 3D file formats including most popular:
.fbx (Autodesk Revit),
.3ds (Autodesk 3Ds Max),
.blend (Blender)
.obj,
.dae
Other supported formats are: *.sa, *.gltf, *.glb, *.ase, *.xgl, *.zgl, *.ply, *.lwo, *.lws, *.lxo, *.stl, *.x, *.ac, *.ms3d, *.cob *.scn.
After file selection, you will need to set the units in which model was created. Don't worry if you don't know the original units. If the application detects unusual size it will ask you to change the units later.
You can also change the vertical axis. If your model appears flipped after loading, you probably should adjust this setting.
The last, but very important setting is geographical location. Click Open map button and point where you want to place your model.